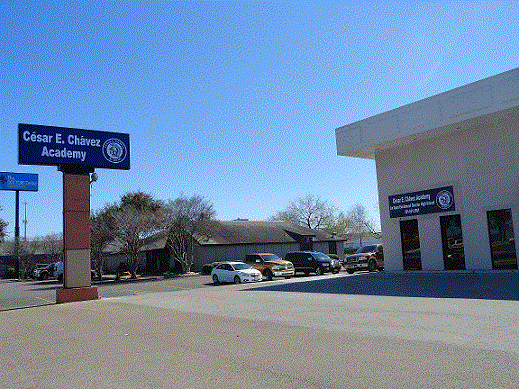 CESAR E. CHAVEZ ACADEMY CHARTER SCHOOL, (CEC), is committed to educating and empowering students to succeed in a complex and changing world. CEC implements an innovative approach to education thus creating a community of life-long learners.

Welcome to Cesar E. Chavez Academy Charter High School (CEC), an open enrollment public charter school.
Our school was established in 2007, with the intention of providing an education to at-risk students in the Corpus Christi, Texas area.
We are the third campus in the Por Vida Charter District, which is one of the states' original charters. At CEC, we believe in educating and engaging the mind and hearts of students.
We are a small school currently serving approximately 110 students, with a maximum enrollment of 125 students.
With the small number of students we are able to provide the one-on-one attention that is necessary for our student population.
All staff members know each student by name and have an open relationship that allows the students to feel safe and a part of the CEC family.
We offer core subjects using differentiated instructional strategies to engage and excite our students about their learning experience.
The school also supplements traditional classroom instruction with PLATO, a computer-based program, and Grad Academy, paper-based modules, for students who need to recover credits.
We look forward to another year of serving our students and the community.
Be a part of the Cesar E. Chavez experience!
We are committed to ensuring all students are successful and leave here with the necessary skills and education to be productive citizens in the fast paced and ever changing society.