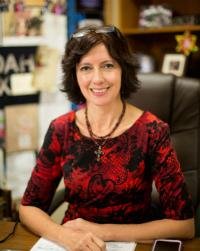 Mrs. Sandra Valencia
Principal
361-561-5651
My name is Sandra Valencia, Principal of Cesar E. Chavez Academy. I grew up in the area surrounding our school, graduating in 1996 from Texas A&M University-Corpus Christi with a degree in Education and History.

My career in education includes six years as a teacher, one year as an Academic Advisor, and this will be my ninth year as Principal of Cesar E. Chavez Academy.

I strongly believe in the mission of our school and that each student is fully capable of learning and becoming successful.

Our school opened its doors in 2007 as an alternative choice for students in the Corpus Christi area. We currently serve approximately 120 students.

The focus of Cesar E. Chavez Academy is to provide an opportunity for students to complete their education in a setting that is tailored to their specific needs.

We offer:

hands-on, differentiated instruction in our classrooms,




a credit recovery program for students needing additional flexibility, and




access to technology for engaging, real-world lessons.
Each student who joins Cesar E. Chavez Academy receives a personalized program of instruction to ensure fulfillment of graduation requirements and success on state examinations.
We have a caring, committed staff, dedicated to each and every student and their achievement. I believe this is what makes our school truly unique.
We are currently interviewing new students for enrollment for the 2018-2019 school year.
You can also find us on Facebook to keep up with the latest news and events (look for Cesar Chavez Gladiators and "like" our page!).
If you are thinking of joining Cesar E. Chavez Academy, feel free to come by the school for a visit and take a tour of the campus.
We welcome all students to join our community.
Go Gladiators!!
Sandra Valencia, Principal